Diff command in UNIX :
This command is mostly used to compare the 2 files and shows the difference between the 2 files.
First let's see the content of the 2 files, so that it will be easy to understand how the diff command displays the results.
Below are the content of the 2 files,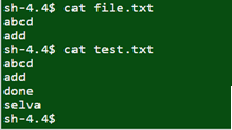 The first 2 lines of the 2 files are same and the second file has the extra 2 different contents. Hence the diff command shows the details on the difference as below.It also shows the line number which has difference.
Based on our example, the lines 3 and 4 are having the difference.
Example for Diff command in UNIX:
diff file.txt test.txt