Using grep command in Unix, we can find multiple search patterns to find the matching files.
Either we can provide the file name to grep or we can give "*.*" which will search from all files under the directory. We need to provide the search patterns within single quotes with pipe separated each other.
Ex: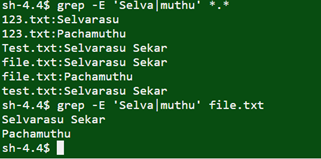 Another way of searching multiple patterns,
We can give multiple patterns with pipe separated when we use "-E" as an argument. Otherwise we can give "-e" separately for every pattern.
Ex: